33rd Annual Plant Sale
Spring is in the air and the BBBS plant sale is just around the corner! We are excited to launch this new platform that we hope will give you an even better shopping experience!!!
Davenport
Northwest Bank & Trust
100 E. Kimberly Road
Pre-Order Pick Up & Delivery:
May 10-11 (Wed & Thur)
Retail Sales:
May 12-15 (Fri-Mon) from 8am-7pm
Macomb
Fortress Bank
500 E. Jackson Street
Pre-Order Pick Up & Delivery:
May 10-11 (Wed & Thur)
Retail Sales:
May 11-13 (Fri-Mon) from 8am-7pm
Pre-Order Deadline: April 24, 2023
Pre-Order available online or through mail
Orders of $80+ are eligible for free delivery within 30 miles
---
Help GROW Potential
As the organizations longest running fundraiser, our trusted grower in Michigan has provided over 30 years of unique and quality flowers that our customers use to beautify our communities and support one-to-one youth mentoring.
Please join us in our effort to GROW POTENTIAL in local youth by purchasing your spring flowers from our sale. Every child has the potential to achieve great things, and Big Brothers Big Sisters inspires, ignites, and defends that potential.
---
PRESENTING SPONSORS
SUPPORTING SPONSORS
MEDIA PARTNERS
Preorder for the BEST Selection and Convenience
-Peace of mind that color and quantity are secured
-Best selection from the product supplied by grower
-Easy online shopping from the comfort of your home or office
-Helps BBBS what and how much to order avoiding waste and bigger dollars for our mission!
If you prefer to order by mail, please click below to download and print the order form. You can also contact us with your address and we would be happy to send an order form.
Individual
Pre-Order your flowers to reserve the color and quantity you need for your garden or as a gift for a loved one (Mother's Day May 14 & Teacher Appreciation Week)
Groups
Gather your neighbors, co-workers, church or club members and place an order together.
Everyone can order individually, just use the same group name.
Corporate
Bring color to your entrance, parking lot, and walking paths! Or thank your staff with a gift that will bloom all summer long!
---
Volunteer At Plant Sale
Plant Sale is a massive undertaking that takes many people to pull off! Volunteering is great for…
Individuals looking to get involved and meet others
Families looking for an activity that teaches great life skills
Team/staff team building
Students needing to complete volunteer hours
Learn more about volunteering below!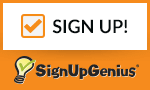 Still Have Questions?